Leveraging the Power of Outdoor Advertising in Kerala: Onam 2023 Opportunities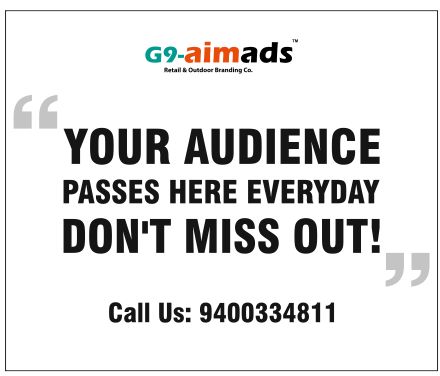 As one of the most vibrant states in India, Kerala presents a multitude of opportunities for businesses to connect with their audiences through outdoor advertising. The picturesque landscapes, coupled with densely populated urban areas, make it an ideal platform for brands to make their mark.
With Onam, the most significant and celebrated festival of Kerala, just around the corner, the potential for outdoor advertising skyrockets. As businesses prepare to launch special offers, promotions, and new products during this festive season, outdoor advertising offers a powerful tool to reach your target audience in an impactful way.
High Visibility: Kerala's bustling cities, towns, and highways offer high-visibility locations for outdoor advertising. Billboards, hoardings, and banners positioned in strategic locations can garner millions of impressions daily, significantly increasing brand awareness.
Captive Audience: Public transportation systems, including buses, auto-rickshaws, and ferries, provide ample advertising opportunities. Interior and exterior advertisements on these vehicles can capture the attention of commuters, ensuring a captive audience for your message.
Cultural Connection: Outdoor advertising during the Onam festival offers a unique opportunity to connect with the local culture. By incorporating elements of the festival into your advertising, you can resonate more deeply with your audience and leave a lasting impression.
Strategic Placement: Outdoor advertising can be strategically placed near retail outlets or areas with a high concentration of your target audience. This ensures your message reaches the right people at the right time, driving more foot traffic and conversions.
Cost-Effective: Compared to other forms of advertising, outdoor advertising offers a cost-effective solution, especially when considering the cost per impression. It's an efficient way to reach a broad audience without straining your marketing budget.
Integration with Digital Campaigns: Combining outdoor advertising with digital campaigns can increase the reach and effectiveness of your Onam promotions. QR codes on billboards or transit ads can direct potential customers to your online store, social media platforms, or promotional landing pages.
As Onam 2023 approaches, now is the perfect time to explore the potential of outdoor advertising in Kerala. Whether you're a local business or a national brand, outdoor advertising can help you capitalize on the festive spirit, reach a broader audience, and boost your bottom line.
Don't miss out on this golden opportunity to connect with your audience in a powerful and meaningful way. With careful planning and a creative approach, your brand can become an integral part of the Onam celebration, creating memorable experiences for your audience and driving business growth.
So, are you ready to light up the streets of Kerala with your brand this Onam? Contact us today to learn more about our outdoor advertising opportunities and how we can help your brand shine.
G9 Aim Ads Outdoor and Retail Branding co – 9400334811 aimadskochi@gmail.com Aimooh Media India Pvt Ltd Bangalore ,aimoohbangalore@gmail.com 8129187744 G9 Advertising Sigange Innovation Kerala ,g9advertising@gmail.com 9400334811