Embracing the digital era of billboards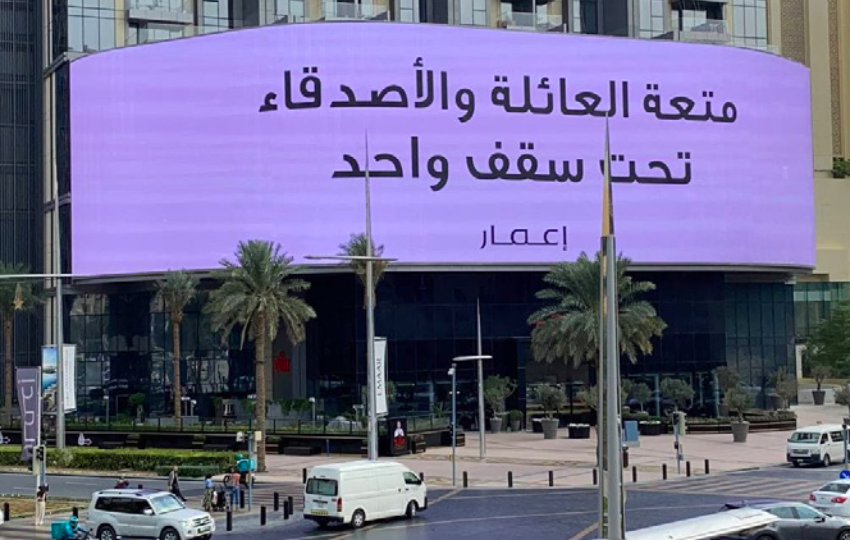 ED Billboards, LED Unipoles, Curved LED display, Gantry advertising using small LED displays… the list of LED usage in OOH at Dubai is fast increasing. While traditional billboards continue to be in use, DOOH or digital OOH is tested by many brands and companies for their outdoor advertising campaigns.
For brands and corporate that are looking to enhancing branding activities, LED billboards, LED unipoles and curved LED screens are an ideal instrument
for improving corporate reputation.
A successful video or an attractive commercial offer will serve to arouse
the interest of target audience or even
to invite repeat the shopping experience of existing customers. There is no doubt that moving images help to retain the advertising memory and familiarisation contributes in the growth of a product and the LED billboards can change the advertisements in a matter of seconds and can avoid monotonous nature of the static billboards.
Imagine large-format digital billboards sitting near to the shoulder of the freeway of Sheikh Zayed Road. Since many vehicles pass through the road, Unipoles guarantee exposure from long distances, they have excellent visibility day and night due to their LED screens, and
they offer artwork flexibility as they can display moving images and there is no production costs involved. At a low cost, they offer high quality images or video, whatever you choose to upload. There
is definitely more definition and colour range when you advertise using LED displays. There is greater impact than the traditional billboard. Moreover the brand can limit its energy consumption which
in turn helps to reduce the environmental impact of any business. In turn, the extended durability of the device helps
to save materials and travel to ensure maintenance and possible repairs. During operation, LEDs only emit light and
some heat, but no infrared or ultraviolet radiation. As LEDs offer a high level of illumination power in illuminated signs it helps the brand in saving, but also boast an environmentally sustainable solution. Curved LED screen at the main arterial Al
Safa, Dubai with 80,000 vehicles passing every day, the 2 curves combined have a surface area of over 740 sq m, capable of carrying full-motion content and synced to create a truly unique impact.
The largest LED hoarding in Dubai at 84 m long and 840 m2 and is located on Al Safa Road a busy thoroughfare connecting Al Wasl and Jumeirah, in proximity to City Walk, the Coca Cola Arena and Sheikh Zayed Road. The giant size of it alone is a show stealer. Images or video played in it will surely grab the attention of passerby. The
long lifespan of LED displays is another advantage which aids the growth of it for OOH. The long durability feature saves the brand a lot in the OOH spend.
There are also some unique locations in Dubai where LED outdoor unipole screens (12 m x 6 m) are used for advertising. Like on Al Safa Street, close to the traffic-light controlled intersection on Al Safa Road and near Sheikh Zayed Road, the gigantic outdoor unipole screen plays full-motion, high-resolution videos and gives excellent visibility and long dwell-time for the 80,000 vehicles that pass City Walk, Dubai each day. With LED displays, their location will no longer be a problem, as you can program them from anywhere. A device with an internet connection will solve all the hassle.
This way, you will achieve more efficient advertisements, since you will be able to adapt the advertising to each time zone. In this way, you can adapt the advertising messages to different buyer personas, which will entail an optimisation of the advertising impact and, therefore, a greater profitability of the LED display. The savings that this represents in comparison to traditional signage are also related to printing costs, time and resources used to place and remove advertising.
There are also some unique locations in Dubai where LED outdoor unipole screens (12 m x 6 m) are used for advertising
March 2022 I Arnon Media 11
Alex Michael Managing Director Call : 09895443434 Online : 09400334811 Arnon Media Pvt.Ltd. – Branding And Marketing Magazine
AimOOH Media India Pvt.Ltd. – Branding & Marketing Agency
G9 Advertising – Retail Branding
G9 Sign & Print – Digital Printing
aim ads & Events Co. – Outdoor Advertising
Bangalore ,Chennai ,Coimbatore ,Kochi